Solutionz Inc.
- Demolition Services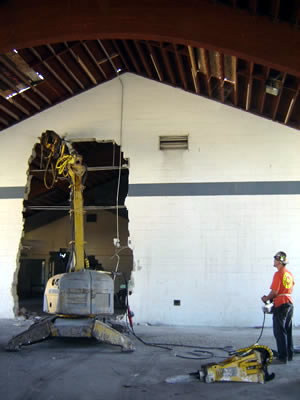 Selective Demolition (Tenant Improvements)
Total Building Demolition (Complete Structure Removal and Site Demolition)
Slab Sawing *(Hydraulic & Electric)
Wall Sawing **(Hydraulic)
Coredrilling (Electric)
Terminator (Flooring Removal) Services (battery operated)
Electric Robotic Demolition (Brokk Mini Max w/ Bucket or Demo Hammer)
*All slab sawing is powered by 3-Phase 480 60 AMP Power Source which results in zero CO2 emissions for interior work.
**Wall sawing is performed with a separate power unit that can be staged outside of a structure while sawing indoors, even in the smallest spaces, resulting in zero CO2 emissions for interior work.
Solutionz Inc. uses only certified recycling facilities. In addition to separating steel and non-ferous metals, our recycling methods result in zero waste making our operation a enviromentally friendly business.