Solutionz Inc.
- About the Company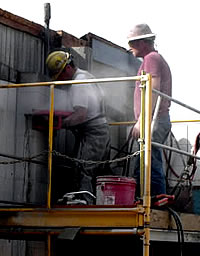 July 28th, 2006 marked the day Robert Shannon, President and Owner of Solutionz, Inc., formed a company that would better service the Greater Puget Sound Area clients in need of a full service demolition contractor. Having worked under a number of business philosophies by which past companies had operated, Mr. Shannon knew that there was much more to offer potential clients in the way of demolition services.
With over 20 years of personal experience in the demolition industry, Mr. Shannon has applied his knowledge of the field and combined that expertise with a solid demolition estimating and pre-construction planning regimen. Coupled with an intense appreciation and respect for his own demolition laborers, operators and subcontracting services, Robert Shannon found his own philosophy by which to operate. Simply stated, Solutionz, Inc. will "do it safely, do it quickly, and do it right".
And yes, you can also depend on Solutionz to perform smaller tasks other than total building demolition, including core drilling, wall sawing, slab sawing, and flooring removal services. We can custom fit any selective demolition scope you might require for your tenant improvement needs.
With countless demolition projects completed in the greater Seattle area in Washington State, Solutionz, Inc. continues to raise the bar on job safety, efficiency, and client satisfaction. It is with great pleasure and appreciation that Solutionz, Inc. is able to continue servicing our customer's on-site needs involving the challenging but rewarding arena of commercial demolition.
Contact us today for a no-obligation Free Quote on your demolition project!